Finally, after a few delays and hiccups, the innovative collaborative marketing book (including a chapter form Media Hunter), Age of Conversation is ready to list on Amazon.
Don't rush out to order yet though, wait until 29 March when it is officially listed. In the meantime the authors and editors are organising a Bum Rush to coincide with the Amazon listing to create awareness and focus attention on getting the book off to a flying start on the best-seller lists.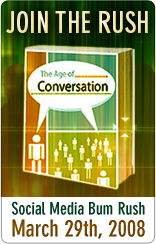 For those of you who came in late:
Age of Conversation is the brainchild of two respected bloggers and marketers, Gavin Heaton and Drew McLellan. Gavin is the Sydney based author of Servant of Chaos, while Drew is the American author of The Marketing Minute.
Gavin and Drew have assembled 100 of the world's leading marketers
and Web 2.0 thinkers to write chapters for the Age of Conversation. The
book promises to give an amazing insight into the new wave of
conversation style marketing that some marketers have employed with
great success, but is still a mystery to many.
Media Hunter is proud
to be a contributor to this ambitious project, writing a chapter on a
new form of Citizen Powered Media that enables local businesses to
benefit from the incredible opportunites to be found online. It's all
about making the web relevent at a local level and the case study is
Hunters Best.
All proceeds from the sale of the Age of Conversation e-book have been and will continue to be donated to Variety, a worthy cause I am sure you will agree.
Age of Conversation was originally published worldwide on 16 July 2007 via online publisher Lulu. The book quickly raced up the publishers online rankings and achieved our target of generating $10,000USD in donations for Variety.
The book has created publicity around the world even in far-flung locations such as Dubai and Oman. It was featured on the Ad-Age USA website, while authors were interviewed on blogs, radio, TV and press around the word.
Authors involved in the book included:
Gavin Heaton
Drew McLellan
CK
Valeria Maltoni
Emily Reed
Katie Chatfield
Greg Verdino
Mack Collier
Lewis Green
Sacrum
Ann Handley
Mike Sansone
Paul McEnany
Roger von Oech
Anna Farmery
David Armano
Bob Glaza
Mark Goren
Matt Dickman
Scott Monty
Richard Huntington
Cam Beck
David Reich
Luc Debaisieux
Sean Howard
Tim Jackson
Patrick Schaber
Roberta Rosenberg
Uwe Hook
Tony D. Clark
Todd Andrlik
Toby Bloomberg
Steve Woodruff
Steve Bannister
Steve Roesler
Stanley Johnson
Spike Jones
Nathan Snell
Simon Payn
Ryan Rasmussen
Ron Shevlin
Roger Anderson
Robert Hruzek
Rishi Desai
Phil Gerbyshak
Peter Corbett
Pete Deutschman
Nick Rice
Nick Wright
Michael Morton
Mark Earls
Mark Blair
Mario Vellandi
Lori Magno
Kristin Gorski
Kris Hoet
G.Kofi Annan
Kimberly Dawn Wells
Karl Long
Julie Fleischer
Jordan Behan
John La Grou
Joe Raasch
Jim Kukral
Jessica Hagy
Janet Green
Jamey Shiels
Dr. Graham Hill
Gia Facchini
Geert Desager
Gaurav Mishra
Gary Schoeniger
Gareth Kay
Faris Yakob
Emily Clasper
Ed Cotton
Dustin Jacobsen
Tom Clifford
David Polinchock
David Koopmans
David Brazeal
David Berkowitz
Carolyn Manning
Craig Wilson
Cord Silverstein
Connie Reece
Colin McKay
Chris Newlan
Chris Corrigan
Cedric Giorgi
Brian Reich
Becky Carroll
Arun Rajagopal
Andy Nulman
Amy Jussel
AJ James
Kim Klaver
Sandy Renshaw
Susan Bird
Ryan Barrett
Troy Worman
S. Neil Vineberg
CB Whitmore